Portable Storage – Hassle Free, Safe, Secure
MyWay Mobile Storage is the leading provider of do it yourself moving and portable storage. We make moving and storage more convenient and affordable for you. No need for a moving truck rental and making multiple trips to a self storage facility. You can pack our portable storage units at your own pace, and when you're ready, we'll pick up your storage units and bring them back to our secure, climate controlled storage facility, or deliver them directly to your new address. Nothing is easier than using our portable storage units to take control of your moving and storage needs.
REQUEST A QUOTE TODAY...
Please Take A Moment To Fill Out The Form...
HOW IT WORKS...
MyWay Mobile Storage's Safeboxes are the less expensive choice. Learn how the process works.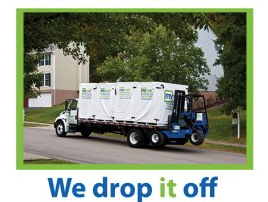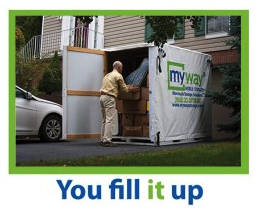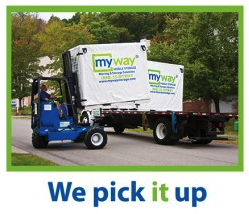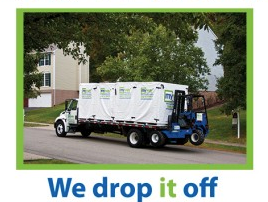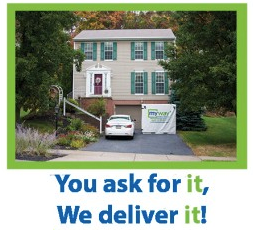 WHY CHOOSE MyWay Mobile Storage...
| | | | | | |
| --- | --- | --- | --- | --- | --- |
| Features & Benefits | MyWay® | PODS® | PACK-RAT® | Self Storage | Truck Rental |
| Dropped off to your location | YES | YES | YES | | |
| Ground level loading & unloading | YES | YES | YES | | |
| Take to new location or to secure warehouse | YES | YES | YES | | |
| Brought back when you need it | YES | YES | YES | | |
| Deliver up to 4 boxes for ONE reasonable trip charge | YES | | | | |
| Use forklift to place boxes where you want; | YES | | | | |
| Single room, 8x5x7 boxes available in All markets | YES | | | | |
| Lowest price guarantee | YES | | | | |
✓ Lower cost

– Based on research in competing markets.

✓ Rent what you need, not empty space

– Send back any unused portable storage container for a refund.

✓ Our portable storage containers fit in more places

– Ideal for apartment, condo, and urban homes. Two of our containers fit into a parking space.

✓ Delivery system offers more flexibility

– Containers can be placed where you want, unlike other delivery systems.

✓ Pack containers room-by-room

– Pack each room into a container for easier loading, storage and retrieval.

✓ Maximum protection for your items while in transit

– Our portable storage containers are a perfect size to pack securely for minimal to no movement during transit.
WHAT THEY SAY...
What our clients are saying about us..
They were great. Wonderful idea to pack everything in a pod an have it sent to your new home. If you plan correctly you can have everything you need in the pods and not have to worry or stress when you are ready to move they will drop the pods off at your new home and you are ready to unpack. It was so much less pressure. Very easily set up with a friendly voice. They were very prompt and friendly when they dropped off the pods and picking them up. I would highly recommend them to use for any moving or storage needs thank you so much for making my move so much easier!!!
Susan Huerbin
Pittsburgh, PA
Customer service is great. When I first called them Amber give me the break down of everything I asked her. She wasn't rushing me nor was she irritated because I was asking so many questions. My pods arrived on the day they was suppose too and the second pod I didn't need I called an told them they refunded my money for it. I will be using them when I move. Thanks myway!!
LaTrece Weber
St. Louis, MO
They are very very nice. And Steve the manager will go above and beyond to help you. I have been using them for years. I have 4 pods outside . They dropped them down so fast and so neatly and they picked them up so carefully and so quickly. You can leave them on your property. But in my case I could not. Or they can store them for you which is what I'm going to do. They can bring them back to you or take them to another location for you to unload. You will not find anyone prices better than theirs for delivery and the size of their pods .
Vennet Enoch
Baltimore, MD
MyWay Mobile Storage made storing our household items while we built a new house SO EASY! Eddie was on time every time we scheduled him to drop off or pick up the storage pods. Scheduling pick up and drop off of the storage pods online was super straight forward. And their prices were cheaper then renting a storage unit. How cool is that?!
Joe Cronley
Salt Lake City, UT
IN THE NEWS...
MyWay Mobile Storage Top Stories...
MYWAY SAFEBOXES...
MyWay Mobile Storage Safeboxes® in The Wild...