Apartment Moving Portable Storage Containers
MyWay Mobile Storage Safeboxes® are the perfect solution for those moving apartment-to-apartment. Our SafeBox® moving containers will fit perfectly within a single parking space. In fact, two Safebox portable storage containers will fit within a single parking space. Each SafeBox® moving container is designed to hold approximately one to one and a half rooms of furniture and belongings, making it easy to organize your move! No more digging through a mountain of boxes trying to remember where the kitchen silverware is. You are able to pack and unload room-by-room at your own pace, stress free. By having separate containers for each room, your moving process transforms from overwhelming… to an easy, hassle-free experience.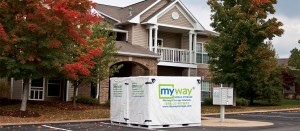 Our SafeBox® moving containers are 8′ X 5′ X 7′ dimensionally, have a weight limit of 2,500 pounds, and are made from solid wood with PVC covers that allow moisture to escape better than metal. They are as sturdy, if not more, than many of our competitors' boxes which are made from metal and plastic. Each SafeBox® container has a latch and handle system that allows you to secure with your own padlock. This is important because you will be the only one with a key to ensure the security of your moving container. As such, you can keep your SafeBox® moving container(s) locked when while it's out of your possession. In addition, we offer our customers free indoor storage in our secure climate-controlled facility to further protect your belongings.
MyWay Mobile Storage is the ideal Apartment Moving Company
Our apartment moving Safeboxes® allow you to advantage of simple loading and unloading at ground level. You can load/unload your belongings just once, which lets you move all at once. Also, you can take advantage of loading your heavy furniture into ground level containers. You won't have to lift anything over your head into an actual moving truck, which can be back breaking work.
Working with us gives you flexible scheduling to do things on your schedule. We can drop off the Safebox® portable storage containers whenever you need, you fill them up, we pick them up, we can store them or delivery them directly to your new residence. It is that simple! Our process can help remove the hassle and stress from apartment moving or storing.
Benefits of Using Apartment Moving Containers
Whatever your moving situation may be, we ensure that MyWay Mobile Storage offers the most affordable and convenient moving solution for you. At MyWay Mobile Storage, our moving process is unique and beneficial to you in many different ways:
Benefits of Using MyWay Mobile Storage for Your Next Apartment Move
We drop the moving container off whenever it works best for you and will make specific arrangements with you based on your schedule, even if you are unable to be there.

The container can be placed in your driveway, parking spot, yard, or anywhere that works best for you.

You can take as much or as little time as you need to pack and unload each container.

You use your own padlock which ensures that you are the only one that has access to your belongings.

We can store the containers in between your move to help with difficult moving timelines.

You can pack room-by-room and easily organize your belongings.

You pack at ground level and don't have to carry heavy furniture up a ramp.