The day was unusually warm for April. The sun was shining and there was a light breeze. It was a perfect spring day for a ride in the Red Rocket! The Red Rocket is our nick name for our 20-year-old red Honda S-2000.
It may have been a mid-life type of purchase, but driving it keeps us feeling young. Sometimes we go for a ride with no destination in mind, but for today's adventure we had not one, but two destinations in mind. The first stop—Red Fox Winery—to purchase some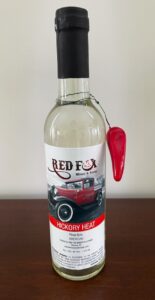 wine for dinner. We headed out from North Strabane on Route 519 heading West with the sun high in the sky. The birds were singing, the trees were just starting to bud and turn green. The radio was tuned to WYEP's Soul Show playing one great song after another. As we zig-zagged through Houston we noticed the Helltown Brewing Houston Taproom and decided to add a third stop on our way home. Along the way there were sprawling green meadows and fields, interesting homes with beautiful vistas, fracking sites, and farms. The cows always make me smile. The smell of a farm is a welcome odor in small doses. As we got closer to Red Fox, we turned the radio down so we could hear the GPS tell us the turns to make. The first time we went there, to see our friend's band, Street Level, play, we missed the turn off 519 onto Ullom Road and had to turn around. Red Fox has entertainment most Sunday afternoons 2:00pm–5:00pm, but also has weddings and other private events, so check their website for the schedule.
We are not big wine drinkers, but after a little tasting we found a couple of varieties that we liked. We got the last bottle of Hickory Heat—a white infused with jalapeno—which was spicy but very drinkable. Anyone who knows me, knows that I like things spicy. For the summer months, they also offer wine slushies, which were very delicious, but could be deadly, so bring a designated driver if you plan on having several!
After our tasting and our purchases were tucked safely in the trunk, we headed toward our second destination of the day—Drover's Inn just over the state line in Wellsburg, West Virginia. The GPS took us back roads to Route 844 which becomes Route 27/Washington Pike in West Virginia. The ride is pretty, with lots of gorgeous country views wherever one looks. There are enough curves in the road and open stretches to keep the Red Rocket humming. And the radio still managed to tune in the Soul Show playing some funk and some Motown. We did turn the music down as we pulled in Drovers. We decided to eat outside because the day was so beautiful. They have a covered patio adjacent to the Inn with picnic tables that provided ample room for social distancing. When we arrived we were the second group, but by the time we left, they were happy to have our table. At Drovers, for us it was all about the wings. Although we also ordered fried pickles and enjoyed them immensely alongside the wings. The outdoor seating allowed us to watch the birds flying about in and out of the forsythia bushes and flowering trees, but it's worth a trip to the restroom inside just to get a feel for the historic Inn which dates back to 1848. Most everyone choosing to eat inside had made reservations. Good thing they did, because it was packed with families and couples out enjoying the day. After our fill of wings, we gave up our seating and our deluxe parking spot and hit the road headed toward home.
Because the ride there had been so great, we back-tracked rather than following the GPS instructions to take Route 50. We were not in a hurry and WYEP was now playing the Big Town Blues show, so the longer, more country roads were perfect. By the time we were back in Houston, we had almost forgotten about Helltown Brewing. Good thing there's a light there to remind us to stop! We went in for a beer and learned that they usually have music on Saturdays and a food truck and the owner's car collection for anyone drawn to cool cars. They seemed to have a good following even without the music or the food truck. We'll definitely head back there again as an alternative to Coconut Joe's Tiki Bar at Mineral Beach. By the time we arrived back home we'd had our fill of sun and fun and all we wanted for dinner was a salad. But we're already planning our next trip out that way. Next time we may go into Wellsburg proper and get some barbecue at Chief's Smokin' BBQ and spend a little time watching the boats on the river on The Crooked Dock's riverside patio.
https://www.facebook.com/HelltownHouston/
https://www.visitpa.com/article/motorcycle-rides-pennsylvania
https://www.visitpa.com/article/20-famous-products-made-pa
https://www.visitpa.com/foodie-fun/experiences
https://www.visitpa.com/article/destination-freedom-traveling-pas-underground-railroad
https://www.visitpa.com/trip-itinerary/keystone-country-pittsburgh-great-lakes
https://redfoxwineryandlounge.com/