The Pittsburgh Chapter of NAPO (National Association of Productivity & Organizing Professionals) is holding their 3rd Annual Organizing Symposium—"Release-Renew"—event on Thursday, October 10, 2019, from 8:00 a.m. to 1:00 p.m. at the Crowne Plaza, Pittsburgh South, in Bethel Park. The event is an educational one, focused on helping the Pittsburgh community learn how to organize their homes, documents, photos, and schedules. The membership's organizing experts will be presenting two round table discussions. The keynote speaker is Justin Stockdale, Western Regional Director of Pennsylvania's oldest grassroots environmental organization, the Pennsylvania Resources Council. He brings an expertise and passion about recycling with a commitment to finding practical solutions to waste issues.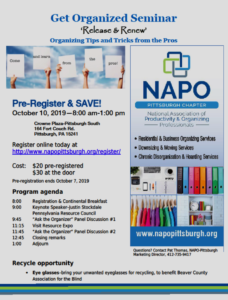 MyWay Mobile Storage is one of several local companies that will be at the event providing information about their services to help individuals and families get organized. Ed Sickmund, MyWay Mobile Storage of Pittsburgh Market Owner commented, "This is going to be a great event. It seems like just about everyone can use some help with organizing. MyWay has been a NAPO affiliate for many years now. We are happy to be a part of helping Pittsburghers get organized."
"This event is designed to help people to get practical and provide expert tips on how to not only get organized but gain access to valuable resources in the Pittsburgh area", explained Sandra Lane, NAPO chapter president. "We are hoping to highlight our members' expertise and various skills in the areas of decluttering, time management, downsizing, hoarding, and organizing best practices for the home and office." The cost to attend the half-day event is $20 if pre-registered or $30 at the door. Raffle prizes will be offered for all attendees. Registration and breakfast starts at 8:00 a.m. with Justin Stockdale starting at 9:00 a.m.
To learn more about NAPO and to register for "Release-Recycle-Renew" go to NAPO's website.
Symposium
Thursday October 10, 2019, from 8:00 a.m.–1:00 p.m.
Crowne Plaza-Pittsburgh South, 164 Fort Couch Rd, Pittsburgh, PA 15241