MyWay Mobile Storage of St. Louis was Proud to Donate Portable Storage Containers to the 2016 Lindenwood Dark Carnival.
St Louis, MO, October 28, 2016. MyWay Mobile Storage, the leading provider of moving and storage solutions, provides quick and easy to do-it-yourself moving and portable storage to meet your needs at your location or in our climate-controlled, secure storage facilities.
Lindenwood University's 6th annual Dark Carnival was held from 7 to 11 p.m. on Wednesday, Oct. 26, on the St. Charles campus near the Spellmann Center clock tower.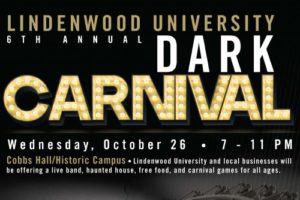 The event, which was free and open to community members of all ages, was sponsored by SSM Health and included two haunted houses, more than 70 booths, and live music by Members Only. Personalities from Emmis Radio's The Point and KSHE served as masters of ceremonies.
Event organizer, Bryan Stone said "Lindenwood's sixth annual Dark Carnival was a smashing success! Thanks to everyone who made the evening possible, and to all the students, staff, community members, and family members and friends who came out to enjoy the event! It was Like No Other! This was an amazing opportunity for local businesses and organizations to come onto campus and showcase the goods and services they offer within our local community. What truly separates this event from all other events in the area is that the Dark Carnival event, attractions, and booths were completely free."
Lindenwood's campus is located at 209 S. Kingshighway in St. Charles, Mo. If you are interested in future community events at Lindenwood visit their website at www.lindenwood.edu/about/events/.
If you are in need of a moving and storage solution, visit us at www.mywaystorage.com or on Facebook at www.facebook.com/mywaystorage or call 1-888-33-MYWAY and speak with a friendly and knowledgeable Moving & Storage Consultant.
Based in Grand Rapids, Michigan, MyWay Mobile Storage is the leading franchise for do-it-yourself moving and portable storage solutions with facilities in Colorado, Maryland, Michigan, Missouri, Pennsylvania, Texas, and Utah.