Winter is on the way, bringing with it chilly, wet days and freezing nights that can leave your garage cold and damp. A little preparation now can save you money later by preventing the need for costly repairs in the spring.
We know a thing or two about keeping garages in good condition over the winter months and have some top tips so you can be ahead of the game before the first frost hits.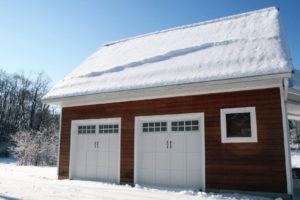 Autumn Clear Out
However hard you try, we are pretty sure that over the summer your garage will have gathered a lot of extra 'stuff'. Kid pools and bicycle pumps, footballs and scooters will have been dragged and dropped in the garage making this the perfect time to have a clear out. Go through everything and throw out and recycle anything you don't need then put everything else away in the right place or find new, safe homes. Remember to remove hoses that may have water in, if they freeze they will expand and split. Wipe the walls, clear away dust and cobwebs, clean oil spots, then sweep the floor and hose it clean. Get Things Off the Ground
Hang bikes from hooks, pop shovels, brooms and other handled equipment on the walls and generally de-clutter the floor.
Sort Out Seasonal Storage
This is a great time to rotate storage bins, bring out the coats and boots, and pack up the gardening gear and pool toys until the spring.
Insulate the Right Way
Ensure your garage is well insulated as this will not only help regulate the temperature, but it can reduce energy bills, act as a noise buffer and save you getting chilblains when you head out for beers from the fridge.
Check Your Garage Door
Ensure checking your garage door is in working order, is on your list of jobs. Check all hinges and locks, get them oiled and if they look as if they need replacing, this is the time to do it.
Shovel, salt and de-icer
Whilst we don't get a lot of snow in the UK, it is always a good idea to ensure you have your most useful winter tools within easy reach. Think about using wall tool hooks for shovels and keep salt and buckets nearby – ideally somewhere dry and close to the door.
Check the lighting
There is nothing worse than going outside to find something in the freezer on Christmas Eve and the lights blowing. Go round and check lights, and all other electrics, and make sure they are in good working order. Keeping a stock of bulbs in a safe place, and a working torch near the door of your garage, is always a good idea.
Keep the outside, outside
If you have an attached garage, think about mats so you don't walk mud, salt and water into your home and onto the carpets. Mats act as great landing spots where you can shoes and boots to dry, clean up the dog and add a few hooks to hang coats and scarves to make the world of difference.
Source: myrenovationmagazine.com