Pittsburgh, PA – September 9, 2016 – MyWay Mobile Storage is pleased to join with Cintas First Aid & Safety and Fire Division to host the 3rd Annual Cornhole Classic to benefit Veterans Place of Washington Boulevard. The event will be held Saturday, October 15, 2016 starting at 6:00p.m. at the dome at the RMU Island Sports Center. Jeff Hancher, Sales Director East Region at Cintas Fire Division, created the event two years ago to support veterans. Ed Sickmund, MyWay Mobile Storage Market Owner and former Cintas General Manager, loved the idea and immediately joined on as co-host.
Hancher commented, "Over the past two years, the event grew from 20 to 50 two-person teams competing for cash prizes and bragging rights as the Cornhole Classic champions. It's a fun time for family and friends of competitors too. More importantly, we've raised more than $26,000 to support our veterans who sacrifice so much for our country."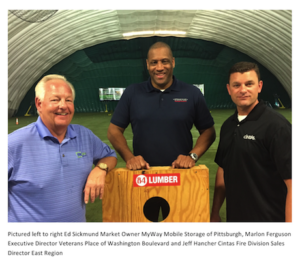 Rochelle Burgunder, General Manager Fire Division for Cintas has been involved from the beginning and loves the comradery this event brings to Cintas from each division and department. "It's truly the best time of the year for me because it generates so much excitement from our partners who jump at the opportunity to be involved in helping our veterans," she said.
Veterans Place is dedicated to ending homelessness among veterans here in the Pittsburgh region. Founded in 1996 and located in Pittsburgh's East End, Veterans Place works to help vets become engaged, valuable citizens who contribute to their communities. Since its inception, Veterans Place has provided more than 18,000 client days of service to veterans living in Pittsburgh's emergency shelters and on the streets.
"We were thrilled to be a part of this terrific event," said Janet Gray, Veterans Place Development Manager. She continued, "People don't realize that veterans are more than twice as likely as civilians to become homeless during their lifetimes. We estimate that about 20% of homeless adults are veterans. This event gives us a chance to raise awareness of the issue and the money raised will help us help veterans transition from Homeless to Home."
"I'm so glad we could do something to support veterans," said event organizer, Jeff Hancher. "These brave individuals and their families sacrifice so much; it's on us to give back." Hancher went on, "Veterans Place has a vision to end homelessness among Pittsburgh's veterans. We applaud that vision, and trust that the money raised by Pittsburghers at this event will be put to good use providing critical services."
There will be 50 cornhole teams competing for bragging rights and the $300 first place prize. Cornhole boards were built for the event by the Carpenters Joint Apprentice Training Committee (JATC) with lumber donated by 84 Lumber. In addition to the cornhole, there will be a silent auction of signed sports items, gift raffles and 50/50.
"This year's event will be even better than last year's," said Ed Sickmund, "and last year was terrific." He continued, "We continue to have terrific support from area businesses. I encourage everyone to come on out to the RMU Island Sports Center and join the fun for a good cause."
This year again we have music, generously donated by the Blues-Rock-Soul band the Evan Dean Duo, so folks not playing Cornhole will have entertainment.
Event sponsors include Beer Blizzard (as seen on "Shark Tank", RMU Island Sports Center, 84 Lumber, and many of last year's sponsors. Mickey Robb from Beer Blizzard said, "Beer Blizzard is happy to be able to support this terrific event again. If you have a special place in your heart for the men and women who defend this country, like I do, you need to support this event."
For more information on sponsorship opportunities or to register a team to play, please contact Cain Lamper at 570-419-8134.
To donate please visit: http://www.veteransplace.org/donate and click the 2016 Cintas Cornhole Classic Tournament donate button.
About Veterans Place of Washington Boulevard:
Veterans Place serves homeless vets through two primary programs: the Day Program and the Transitional Housing Program. The Day Program transports homeless vets from shelters throughout the Pittsburgh region to the Veterans Place facility where they are provided meals, clothing, case management, referrals and other services designed to address the root causes of homelessness. The Day Program operates as the front line for homeless vets and a gateway to other programs and services. Veterans Place operates the only drop-in day program for homeless vets in the region.
The Transitional Housing Program can accommodate 48 homeless vets for up to a 24-month stay in one of 13 townhouses. Veterans in the program receive recovery support, case management, financial management and employment/educational support designed to build their self-sufficiency. The ultimate goal is to obtain permanent housing. The average monthly census is 44. Veterans Place 75% success rate of achieving permanent housing and employment for vets is the highest among similar programs across the nation. To learn more or make a donation, visit http://www.veteransplace.org or call 412-363-0500.
About MyWay Mobile Storage:
MyWay Mobile Storage is the leading provider of moving and storage solutions and is located in a spacious 27,500 square foot facility in West Mifflin, PA to better service their customers in the metropolitan Pittsburgh area. They provide quick and easy do it yourself moving containers that can be delivered right to your door and stored in their climate controlled, secure storage facilities. To learn more, visit https://www.mywaystorage.com or call 888-336-9929 to speak with a Moving & Storage Consultant.