Pittsburgh, PA – Thursday, March 10, 2016
Municipal managers from Bridgeville, Collier, Heidelberg, Scott, South Fayette, and Upper St. Clair joined members of the South West Communities Chamber of Commerce for a round-table discussion. Billed as a "Community Conversation with Your Municipal Managers" the annual community outlook gathering gives the municipal managers an opportunity to share their communities' accomplishments with business leaders and discuss plans for the year ahead.
Ed Sickmund, MyWay Mobile Storage of Pittsburgh Market Owner and board president of the Chamber served as moderator, asking the managers wide ranging questions ranging from zoning and taxes to parks and recreation to traffic and signage. "This event always has good attendance. The local businesses that make up the Chamber's membership are very interested in the goings on in their communities and in neighboring townships. Part of being good citizens is staying informed on local issues," Sickmund said.
Matthew Serakowski, Upper St.Clair Township manager, talked about the importance of cooperation among the municipalities so that all can succeed. By way of example was the new joint Upper St. Clair–South Fayette Independence Day fireworks show. The change was necessitated when new construction near the mall meant the 15-year partnership with Bethel Park for fireworks was no longer safe. Sites under consideration for the new joint fireworks show include Fairview Park off Boyce Road and Boyce Mayview Park.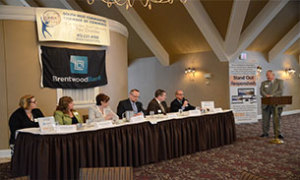 "We're working together as a team," said South Fayette Township manager, Ryan Eggleston, about the new partnership.
In response to a question about significant projects in South Fayette, Eggleston said that two four-story buildings will be constructed at Abele Business Park. He also noted that one tax mill—about $1 million—has been dedicated to road improvements. "Now we need to sell Starr City and start work on a garage for Public Works," he added.
Lori Collins, Bridgeville Borough manager, said that Pennsylvania American Water Company is continuing its work on new waterlines in Bridgeville. "It's been quite an experience," she said, "but when we're done, the streets will be paved."
Serakowski also told the audience about a number of planned road improvements in the Upper St. Clair, particularly around McLaughlin Road and McMurray and Bethel Church roads.
Salvatore Sirabella, Collier Township manager, said "There's a lot of history in Collier." He noted that efforts are being made to resurrect the local history society in the township now that there is a room in the community center to store historical records. "If you have any records, we have a place to store them," he added.
Denise Fitzgerald, Scott Township manager, said, "We had to bite the bullet," when telling about the new community swimming pool Scott residents will be able to enjoy. There will be water features for children such as water slides and buckets. "We will open on time," she promised, adding that rates will remain the same. She also discussed her recent grant-funded local government exchange visit to Vietnam.
New to the group was Amanda Loutitt, Heidelberg Borough manager, in her position for less than a year. She told the crowd that much of the borough's council members are also new. "We're in a bit of a unique situation."
Sirabella commented that he found it interesting that none of the local school districts were forced to obtain loans as a result of the state budget impasse in Harrisburg.
"We decided to change the format to make things a little less formal and to engage Chamber members," noted Emerald VanBuskirk, the Chamber's long-time Executive Director. "Ed Sickmund, our president, knows each of the managers and his conversational style as moderator hit just the right note. Everyone relaxed and enjoyed themselves."
Links to community websites:
www.bridgevilleboro.com
www.scott-twp.com
www.colliertownship.net
www.south-fayette.pa.us
www.heidelbergpa.tripod.com
www.twpusc.org
About South West Communities Chamber of Commerce:
The Chamber advocates for growth and economic vitality to benefit members and the communities we serve. The Chamber advances the commercial, financial, industrial, and civic interests of our members and sustains a working partnership between business and government interests. The Chamber also promotes the benefits of Chamber membership to businesses and concerned citizens.
To learn more about the South West Communities Chamber of Commerce visit http://swccoc.org or call 412-221-4100 or send an email to info@SWCCOC.org.
About MyWay Mobile Storage:
MyWay Mobile Storage is the leading provider of moving and storage solutions and located in a spacious 27,500 square foot facility in West Mifflin, PA to better service their customers in the metropolitan Pittsburgh area. They provide quick and easy do it yourself moving containers that can be delivered right to your door and stored in their climate controlled, secure storage facilities. Sickmund and Myway Mobile Storage are also involved with the Realtors Association of Metropolitan Pittsburgh (RAMP), National Association of Professional Organizers (NAPO), and Business Networking International (BNI).
To learn more about MyWay Mobile Storage, visit https://www.mywaystorage.com or call 888-336-9929 to speak with a Moving & Storage Consultant.