St Louis, MO, February 29, 2016. MyWay Mobile Storage of St. Louis, the leading provider of moving and storage solutions, provides quick and easy to do-it-yourself moving and portable storage to meet your needs at your location or in our climate-controlled, secure storage facilities.
This will be the 74th Annual St. Louis Moolah Shrine Circus. Are you going to take the opportunity to run away with the circus this year? The three-ring spectacle starts on Thursday March 17th and runs through Sunday March 20th. MyWay Mobile Storage of St. Louis will be supplying portable storage units to the Circus again this year as it has for the past three years. Shriners use the portable storage units to stock supplies.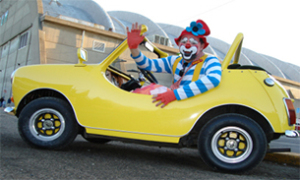 The Circus offers something for everyone. Before the show and during intermission the circus goers can ride ponies, camels and elephants. The more adventurous guest can get a picture holding a 15 foot long python snake. There will also be a giant bounce slide and face painting for the kids. All the great carnival food like popcorn, cotton candy, peanuts, snow cones, and soda will be available for kids of all ages. Visit www.stlshrinecircus.com for more information.
If you are in need of a moving and storage solution, visit us at www.mywaystorage.com or on Facebook at www.facebook.com/mywaystorage or call 1-888-33-MYWAY and speak with a friendly and knowledgeable Moving & Storage Consultant.
About MyWay Mobile Storage
Headquartered in Grand Rapids, Michigan, MyWay Mobile Storage is the leading franchise for do-it-yourself moving and portable storage solutions with facilities in Colorado, Maryland, Michigan, Missouri, Pennsylvania, and Utah.
Contact Information
James Curran
Market Owner
curranj@mywaystorage.com
314-974-2520