Pittsburgh, PA – January 20, 2016
MyWay Mobile Storage is pleased to be a part of the 10-year anniversary celebration of the Realtors Association of Metropolitan Pittsburgh's (RAMP) Affiliate Committee. The event will be held at Latitude 360 in Robinson, February 11, 2016 from 4:00pm to 8:00pm and will include bowling and prizes and a collection of items for the Greater Pittsburgh Community Food Bank.
Ed Sickmund, MyWay Mobile Storage Market Owner said, "MyWay is happy to be able to support this terrific event. We want to completely fill the MyWay Mobile Storage container to the brim with items for the Food Bank. This will not only be a successful fund raiser, but a fun and festive celebration."
We wanted to host a party to celebrate our tenth anniversary, and at the same time, give back to the community," said Linda Schell Rakers, Colonial Title LLC, Affiliate Committee chairperson. "Collecting donations for the Greater Pittsburgh Community Food Bank was an easy decision. We are encouraging everyone to bring non-perishable food items and things to meet often overlooked needs, like diapers and wipes, feminine hygiene products, toilet tissue, tooth paste and brushes, lotion, soap, shampoo, and warm socks." Rakers noted, "Of course, monetary donations are also accepted."
The Greater Pittsburgh Community Food Bank collects and distributes food through a network of more than 380 members in 11 counties in Southwestern Pennsylvania. Members include outlets such as soup kitchens, food pantries, shelters, after school programs, senior high-rises, Meals-on-Wheels, and community centers throughout the region. The Food Bank currently distributes approximately 27 million pounds of food annually. To learn how you can help, visit www.PittsburghFoodBank.org.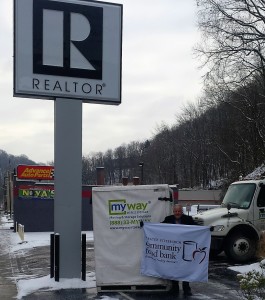 Ivy Ero, with the Greater Pittsburgh Community Food Bank said, "The food items everyone donates are always in high demand. The financial support enables us to feed families throughout the year. There is a constant need that lasts well beyond the holidays."
About the REALTORS® Association of Metropolitan Pittsburgh (RAMP):
Since 1911, RAMP has served real estate professionals and the community as western Pennsylvania's most effective voice for private property and industry professionalism. RAMP began with 30 members and has since grown to include approximately 2,100 residential and commercial realtors. RAMP has remained at the forefront of public policy and member advocacy. With full-time government affairs and education programs, RAMP is uniquely positioned to provide its members with the tools they need to do business successfully and ethically. By shaping legislation and preparing REALTORS to serve their clients more effectively, RAMP has delivered the American Dream to five generations of Pittsburgh-area property owners. Visit www.realtorspgh.com/RAMPHome.aspx.
About RAMP's Affiliate Committee:
RAMP's Affiliate Committee is made up of real estate industry professionals who help realtors do business every day by offering a wide range of services. Affiliate Committee members find new ways to build a mutually beneficial relationship between RAMP members and other key segments of the real estate community. Through education and networking events, the Affiliate Committee works with RAMP to advance their mission of assuring an ethical and prosperous real estate industry in the Pittsburgh region.
About MyWay Mobile Storage:
MyWay Mobile Storage is the leading provider of moving and storage solutions and located in a spacious 27,500 square foot facility in West Mifflin, PA to better service their customers in the metropolitan Pittsburgh area. They provide quick and easy do it yourself moving containers that can be delivered right to your door and stored in their climate controlled, secure storage facilities. MyWay Mobile Storage is a RAMP Affiliate Member and Market Owner, Ed Sickmund, was honored with their 2011 Affiliate of the Year award. Sickmund and MyWay Mobile Storage are also involved with the National Association of Professional Organizers (NAPO), Business Networking International (BNI) and the South West Communities Chamber of Commerce (SWCCOC), where Sickmund currently serves as board president.
To learn more about MyWay Mobile Storage, visit https://www.mywaystorage.com or call 888-336-9929 to speak with a Moving & Storage Consultant.