Park City, UT – MyWay Mobile Storage of Salt Lake City donated portable storage convenience for The Christian Center of Park City during their Operation Hope. "It is our privilege to help CCPC with on-site storage needs during Operation Hope. The service that CCPC provides our community during the holidays and throughout the year is tremendous. Being able to play even a small role in this project makes our holidays more meaningful," said Craig Bullock, owner of MyWay Mobile Storage of Salt Lake City.
The Christian Center of Park City (CCPC) is a Christian humanitarian, community-focused resource center that helps improve the lives of people and communities through meeting immediate and basic needs, serving as a leading networker of community resources, offering counseling services and spiritual care support, championing advocacy for those in need and most of all by giving hope. The focus area of the Center is primarily on the population centers of Summit and Wasatch counties.
In 2015 CCPC's Operation Hope helped make Christmas a little brighter for over 1400 children of families without the means to buy gifts for Christmas this year. CCPC provides new clothing and toys donated by the community, in a toy store format that enables parents to choose a toy that their children are more likely to need and enjoy.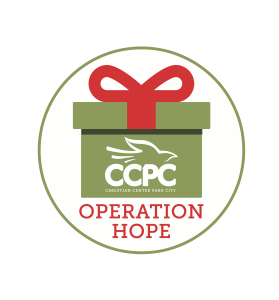 We have over 7,000 gifts that come in for our annual Operation Hope program throughout the year. We were in need of a safe place to store theses donations on-site temporarily, so Craig at MyWay Mobile Storage of Salt Lake City has generously provided exactly that! For the last 2 years, we have been able to temporarily use a mobile storage unit to safely keep gifts until the big event! Thank you so much MyWay Mobile Storage of Salt Lake City!
-Jenny Mauer, Director of Programs & Volunteers at CCPC
Operation Hope began 12 years ago and has helped more children each year.
About MyWay Mobile Storage
MyWay Mobile Storage is the leading provider of moving and storage solutions. They provide quick and easy do it yourself moving containers that can be delivered right to your door and stored in their climate controlled, secure storage facilities. To learn more visit https://www.mywaystorage.com or call (888) 336-9929 to speak with a Moving & Storage Consultant.