MyWay Mobile Storage of Baltimore provides portable storage units to 2017 Special Olympics Maryland State Basketball tournament.
Frederick, MD (April 10, 2017) – Special Olympics Maryland held their 2017 Basketball State Championships at Hood College (BB&T Arena) in Frederick, MD and three other Frederick area High Schools on Saturday, March 25th and Sunday, March 26th. Special Olympics Maryland athletes displayed their basketball skills they developed over a 12-week training period, through individual skills, as well as 3 vs 3 and 5 vs 5 competitions. The event featured over 350 athletes in addition to 80 coaches and 50 volunteers. MyWay Mobile Storage of Baltimore provided four portable storage units, one at each location, which were loaded with all of the necessary equipment needed for the event.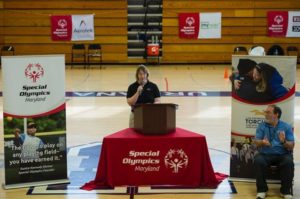 Melissa Kelly, Senior Director of School Sports Programs said, "The staff and employees at MyWay Mobile Storage of Baltimore have gone above and beyond when it comes to their support during the Special Olympics Maryland. Our organization has counted on MyWay Mobile Storage of Baltimore for multiple of events in an array of venues. We would recommend MyWay to any individual or company that is in need of moving and storage solutions. Their products are high-quality and their services is outstanding."
Special Olympics Maryland and MyWay Mobile Storage of Baltimore have partnered for the past eight years. "It is wonderful to have donated our portable storage units for such a worthy cause, we have met some great people over at SOMD over the years, and we enjoy being relied on by the staff for on-site storage during the events as well as the safe transportation of their necessary equipment," said Steve Hudson, Operations Manager of MyWay Mobile Storage of Baltimore.
About Special Olympics Maryland
Special Olympics Maryland is a year-round sports organization dedicating to providing life-changing sports training and competition opportunities to Maryland's citizens with intellectual disabilities. SOMD currently serves thousands of athletes statewide, and offers 28 sports, all at no cost to the athletes or their families.
About MyWay Mobile Storage
MyWay Mobile Storage is the leading provider of moving and storage solutions. They provide quick and easy do it yourself moving containers that can be delivered right to your door and stored in their climate controlled, secure storage facilities.