Salt Lake City, Utah. December 20, 2016. MyWay Mobile Storage of Salt Lake City, the leading provider of moving and storage solutions, provides quick and easy to do-it-yourself moving and portable storage to meet your needs at your location or in our climate-controlled, secure storage facilities.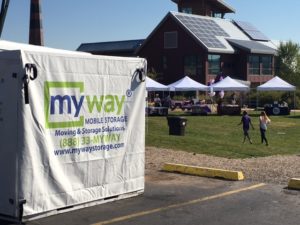 MyWay Mobile Storage Safeboxes were delivered directly to Walk to End Alzheimer's events throughout Utah, housing supplies for the participants and volunteers. The Walk to End Alzheimer's is the largest event in the world to raise funds for Alzheimer's care, support and research. Walks took place in Utah from August through November this year at seven locations throughout the state. This year, the Walks to End Alzheimer's raised more than $470,000 for local programs, support and to fund ongoing research to find a cure for Alzheimer's disease
"We are pleased with this kind donation. The MyWay mobile storage units allowed us to locate our supplies at each walk where they were most needed," said Laura Wall, Development Director, Alzheimer's Association, Utah Chapter. "We appreciate the strong community support from exceptional organizations like MyWay Mobile Storage."
"We could not be more pleased that our company was able to play a role again this year in The Utah Chapter's Walk to End Alzheimer's," said Craig Bullock, owner of MyWay Mobile Storage, Salt Lake City.
About MyWay Mobile Storage
MyWay is a leading provider of moving and storage containers. They provide quick and easy DIY moving containers that can be delivered right to your door and stored in their climate controlled secure storage facility in Salt Lake City. To learn more visit www.mywaystorage.com or on Facebook at www.facebook.com/mywaystorage or call 1-888-33-MYWAY to speak with a friendly and knowledgeable Moving & Storage Consultant.