MyWay Mobile Storage was pleased to be able to assist the Bridgeville Athletic Association with their clean-up effort to repair the damage caused to Chartiers Park when Chartiers Creek flooded following heavy rains. MyWay Mobile Storage donated four storage units to temporarily replace the storage sheds destroyed by the flood waters.
Part of Bridgeville's Parks and Recreation department, Chartiers Park has two pavilions, picnic tables, playground, an ADA-compliant walking trail, and horseshoe pits. Chartiers Park is home to the Beadling Soccer Club and the location for Bridgeville's Summer Recreation Program.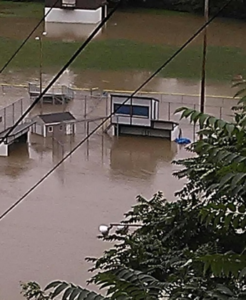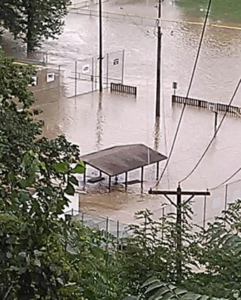 Gil Taylor, of the Bridgeville Athletic Association, noted that there were about three feet of water covering the entire park. "We want to get back up and running. We still have tournaments and fall ball to play," he said. Taylor continued, "Our mission is to help the youth in our community become better individuals and better citizens through organized athletics and to embody the discipline of teamwork, the ideals of good sportsmanship, and respect for authority in an atmosphere of safe, wholesome community participation. Community participation and team work is what we need to get the park back in shape."
Ed Sickmund, MyWay Mobile Storage Market Owner and long-time member and past president of the South West Communities Chamber of Commerce said, "When I heard about the flood damage, I immediately thought MyWay could help by providing containers to store the things that are salvageable. We are a member of this community; of course we wanted to help."
MyWay Mobile Storage dropped off four storage units at the park Friday to be ready for the volunteers who will be part of the Flood Recovery clean up noon to 6:00pm, Sunday, August 6.
More information about the Bridgeville Athletic Association can be found on their website at
http://www.bridgevilleball.com/
To make a tax-deductible donation:
Bridgeville Athletic Association: 2017 Flood Recovery Effort
PO Box 91, Bridgeville, PA 15017
About MyWay Mobile Storage:
MyWay Mobile Storage is the leading provider of moving and storage solutions and located in a spacious 27,500 square foot facility in West Mifflin, PA to better service their customers in the metropolitan Pittsburgh area. They provide quick and easy do it yourself moving containers that can be delivered right to your door and stored in their climate controlled, secure storage facilities. MyWay Mobile Storage is a member of the South West Communities Chamber of Commerce (SWCCOC). Market Owner, Ed Sickmund was board president for two years. Sickmund and Myway Mobile Storage are also involved with the National Association of Professional Organizers (NAPO), Business Networking International (BNI), and the Realtors Association of Metropolitan Pittsburgh (RAMP).
To learn more about MyWay Mobile Storage, visit https://www.mywaystorage.com or call 888-336-9929 to speak with a Moving & Storage Consultant.