Annapolis, MD. (June 20, 2016) – MyWay Mobile Storage of Baltimore, the leading provider of moving and storage solutions, provides quick and easy to do-it-yourself moving and portable storage to meet your needs at your location or in our climate-controlled, secure storage facilities.
MyWay Mobile storage of Baltimore is delighted to announce that they have won the "Best Storage" award for the fourth straight year from The Capital's Annual Readers' Choice Awards.
The Capital Gazette of Annapolis announced the winners of their annual Capital's Readers' Choice Awards. The 8th annual publication was released in a special section in the Capital's Sunday, May 15th issue. Residents of Annapolis and Anne Arundel County were able to cast their votes for their favorite local businesses in almost 200 categories. The voting began on March 1st and concluded on March 29. Thousands of votes were cast through the www.CapitalGazette.com website. This special section is available on-line as well for readers to see throughout the year.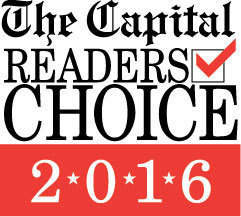 The Readers' Choice Awards poll the publication's readers to give them the opportunity to give kudos, congratulations and thanks to local companies and their outstanding products, services and staff. Winners and finalists were announced in the publication's May 15, 2016 issue.
"MyWay Mobile Storage is honored to once again be voted 'Best Storage', and special thanks goes to all those who participated in the voting," says Steve Hudson, Operations Manager of MyWay Mobile Storage. "MyWay Mobile Storage always strives to be recognized in the community not only for our portable storage service, but for our donations to various community organizations, events and charities. To win the award 4 years in a row must mean we are doing something right in the eyes of the consumer and community." Owner of MyWay Mobile Storage Baltimore, and Annapolis resident, Steve Kling adds, "Excellent customer service and involvement in the community have always been at the forefront of our business philosophy. We look forward to continuing our top-notch service to not only Anne Arundel County, but the Greater Baltimore Metro Area as well."
Gina Alvarado, former customer and Anne Arundel County resident, had this to say regarding our service, "It is with great pleasure that I recommend MyWay Mobile Storage. I used their storage services for over a year. In addition, I was able to use their mobile units to move from one house into another. Steve and his team were always the epitome of excellent service. They were always on time and worked diligently to ensure the units were exactly where I wanted them placed. "I was impressed not only by their professionalism but also by their dedication to community service. This is a company that strives and succeeds in their commitment to outstanding service and exceptional community relations. We need more businesses to follow in their footsteps; they lead the Annapolis/Baltimore Area in setting the standard for admirable business practices."
About MyWay Mobile Storage
MyWay Mobile Storage is the leading provider of moving and storage solutions. They provide quick and easy do it yourself moving containers that can be delivered right to your door and stored in their climate controlled, secure storage facilities. To learn more call (888) 336-9929 to speak with a Moving & Storage Consultant.