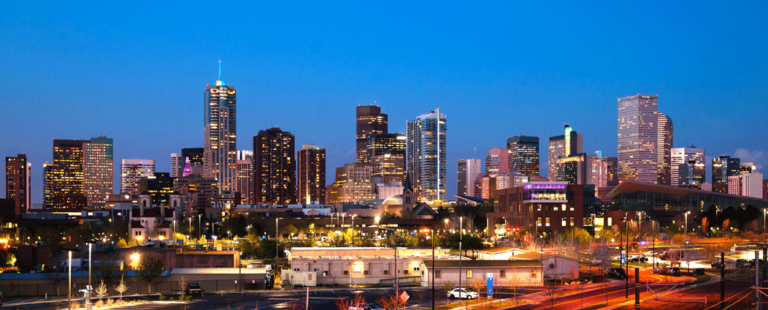 Denver Local Moving & Storage Solutions
MyWay Mobile Storage of Denver gives you a direct moving quote and doesn't try to sneak in hidden fees or fuel surcharges on you. With traditional moving companies you never get an exact quote, and we have heard many horror stories about hidden fees and unexpected delays. We don't make you work around our schedule, because we will work around yours. Find out why after using our service our customers will never go back to renting a truck or another moving service.
Our SafeBox® containers allow you to organize your move; pack and unpack room-by-room. Our SafeBox® moving containers are 8′ X 5′ X 7′ dimensionally, have a weight limit of 2,500 pounds, and are made from solid wood with PVC covers that allow moisture to escape better than metal. They are as sturdy, if not more, than many of our competitors' boxes which are made from metal and plastic. Each SafeBox® container has a latch and handle system that allows you to secure with your own padlock. This is important because you will be the only one with a key to ensure the security of your moving container. As such, you can keep your SafeBox® moving container(s) locked when while it's out of your possession. In addition, we offer our customers free indoor storage in our secure climate-controlled facility to further protect your belongings.
We understand that each person is unique and has special needs. Our portable storage system allows us to accommodate almost every situation. If your closing dates don't line up and you need storage, we can help. If you are building your new house and need storage, we can help. We specialize in any combination of moving and storage. Let us customize a quote for you today and find out how we can make your moving experience easier on you.
Benefits of Using Mobile Storage Containers
We offer both short and long term storage solutions, so no matter what your storage needs are we offer the most affordable and convenient storage option. Since we bring the storage containers right to your door, you can pack the container at your own pace. At MyWay Mobile Storage, we understand that everyone's storage needs are unique. We customize our services to benefit you in many different ways:
Benefits of using MyWay Mobile Storage of Denver for Your Next Local Move:
Do It YourSelf & Save Money!
Low Monthly Rental
Pack & Move at Your Own Pace
Only Pay for What You Use
Secure Your Own Possessions
Ground-Level Loading/Unloading
Quick and Easy Moving and Storage Service
Climate-Controlled, Secure Storage Facilities
Better Than Truck Rental
Get started today with a free, no-obligation quote, and see how we can customize our moving and storage packages to fit your needs.
Serving the Denver Community
MyWay Mobile Storage of Denver is proud to serve the people of Denver and surrounding communities. We believe in helping our community through small philanthropic acts of kindness everyday. Denver is not just a place of business to MyWay Mobile Storage, It is our home too.
MyWay Mobile Storage of Denver Services the Following Counties: Adams, Arapahoe, Boulder, Broomfield, Clear Creek, Denver, Douglas, Larimer and Weld.