MyWay Mobile Storage provides portable storage units to Special Olympics of Maryland September 2016 Events.
Special Olympics Maryland held their 2016 Kayaking Time Trials/Championship on Saturday, August 27, 2016 in Chestertown, MD. Special Olympics Maryland athletes displayed their kayaking skills in the waters of the Chester River by neighboring Washington College. Participants of all ages and counties in Maryland competed in competitive time trials in their respective divisions. This is the second year MyWay Mobile Storage provided a portable storage to the event location. The storage unit was loaded with all of the necessary equipment needed for the event at SOMD office in South Baltimore and MyWay transported it to and from the kayak venue.
On Sunday, September 18th the eighth annual Fort McHenry Tunnel 5K Run/Walk took place. The event, which benefits Special Olympics Maryland (SOMD), began at 9 a.m. and will take participants on an out-and-back course through the northbound right tunnel tube on Interstate 95. SOMD sponsored a post-race celebration with awards given to participants based on age and gender. The entry fee was $35. The Maryland Transportation Authority minimized the impact on traffic during this annual fundraising event benefiting a wonderful cause. This is the second year MyWay Mobile Storage donated one portable storage units for this event.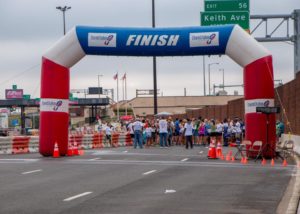 "The staff and employees at MyWay Mobile Storage have gone above and beyond the call of duty when Special Olympics Maryland has used their storage containers," said Steve Bennett, the Senior Director of Competition. "Our organization has counted on MyWay for dozens of events in an array of venues." "Our organization would recommend MyWay to any person, company or organization in need of moving and storage solutions," stated George. "The services are outstanding and the products are top quality."
The mission of Special Olympics Maryland is to provide year-round sports training and athletic competition in a variety of Olympic-type sports for children and adults with intellectual disabilities. Special Olympics Maryland and MyWay Mobile Storage have partnered for the past 7 years. "It is wonderful to have donated our portable storage units for such a worthy cause, we have met some great people over at SOMD over the years, and we enjoy being relied on by the staff for on-site storage during the events as well as the safe transportation of their necessary equipment," said Steve Hudson, Operations Manager of MyWay Mobile Storage.
MyWay Mobile Storage will once again be providing their portable storage units for upcoming October 2016 events. The Fall Sports Festival being held at Mount St. Mary's University in Emmitsburg, MD on Saturday, October 22 where over 300 athletes are expected to participate and the SOMD Golf Championships being held in Queenstown, MD on Oct 2nd.
About MyWay Mobile Storage
MyWay Mobile Storage is the leading provider of moving and storage solutions. They provide quick and easy do it yourself moving containers that can be delivered right to your door and stored in their climate controlled, secure storage facilities. To learn more visit www.mywaystorage.com or call (888) 336-9929 to speak with a Moving & Storage Consultant.