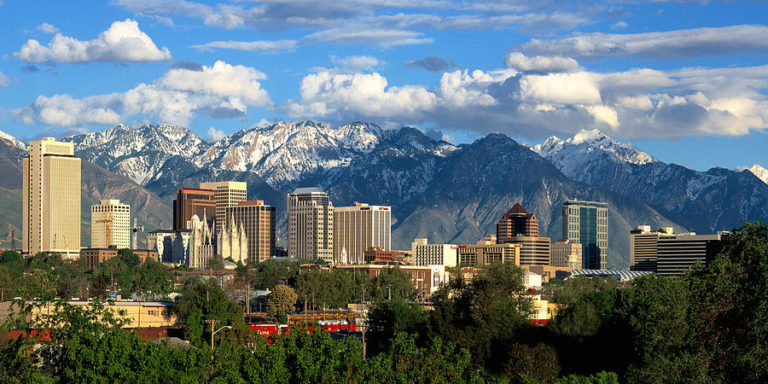 Salt Lake City Local Moving & Storage Solutions
We offer the best solutions to moving and storage. Why move or store any other way when you can get the convenience of a mobile storage container brought right to your doorstep, and pack the container on your schedule? Let us know when you're ready and we'll pick the container up and bring it to your new residence, or take it back to our secure climate controlled storage facility.
Our SafeBox® moving containers are 8′ X 5′ X 7′ dimensionally, have a weight limit of 2,500 pounds, and are made from solid wood with PVC covers that allow moisture to escape better than metal. They are as sturdy, if not more, than many of our competitors' boxes which are made from metal and plastic. Each SafeBox® container has a latch and handle system that allows you to secure with your own padlock. This is important because you will be the only one with a key to ensure the security of your moving container. As such, you can keep your SafeBox® moving container(s) locked when while it's out of your possession. In addition, we offer our customers free indoor storage in our secure climate-controlled facility to further protect your belongings.
MyWay Mobile Storage of Salt Lake City can conveniently deliver SafeBox® storage containers right to your doorstep. This allows you take as much time as you need to fill your SafeBox® storage container(s). When you're done packing your SafeBox(es)®, send us an email or call us and we'll pick them up. We can either deliver your SafeBox® storage container(s) straight to your new residence, or take it back into our climate controlled storage facility for you.
Local Moving Salt Lake City
Moving with MyWay Mobile Storage is easy. Why bother renting a truck or a storage and moving company when we give you the ability to move on your own schedule. We specialize with being flexible when it comes to delivering and picking up your portable storage containers. You can pack our SafeBox containers room by room which is a great way to keep your move organized. This allows you to keep your garage's contents from being mixed in with your new furniture. We make your moving and storage needs simple, efficient and best of all affordable.
Our MyWay brings convenience to your door. In addition to saving you time and stress, MyWay Mobile Storage of Salt Lake City offers our customers:
Do It YourSelf & Save Money!
Low Monthly Rental
Pack & Move at Your Own Pace
Only Pay for What You Use
Secure Your Own Possessions
Ground-Level Loading/Unloading
Quick and Easy Moving and Storage Service
Climate-Controlled, Secure Storage Facilities
Better Than Truck Rental
Get started today with a free, no-obligation quote, and see how we can customize our moving and storage packages to fit your needs.
Serving the Salt Lake City Community
MyWay Mobile Storage of Salt Lake City is proud to serve the people of Salt Lake City and surrounding communities. We believe in helping our community through small philanthropic acts of kindness everyday. Salt Lake City is not just a place of business to MyWay Mobile Storage, It is our home too.
MyWay Mobile Storage of Salt Lake City Services the Following Counties: Salt Lake, Summit, Wasatch, Davis, Weber, Utah, Tooele and Morgan.