MyWay Mobile Storage of Grand Rapids to Support The Gazelle Girl Half Marathon.
MyWay Mobile Storage of Grand Rapids is proud to announce another great year as a corporate sponsor of the Gazelle Girl 5k/10k/Half Marathon on April 14, 2019. In addition to being a corporate sponsor, MyWay Mobile Storage of Grand Rapids will provide five storage containers, which will be utilized as water and safety stations along the course.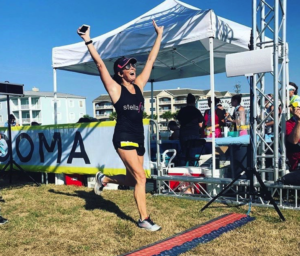 The Seventh Annual 2019 Gazelle Girl Half Marathon/5k/10k will host more than 4,000 runners. The Gazelle Girl run is an event designed to honor women and celebrate Title IX. It is an all-women race, offering 5K, 10K and half-marathon distances. Gazelle Sports is hosting the event to raise money for women's charities, promote women's health, enhance community partnerships, build relationships and have fun.
Holly Visser, Gazelle Girl Half Marathon Co-Director, is excited about the event's growth, "This is our 7th year, and we are on target to grow. Women are seizing the opportunity to try new things fitness and business related more than ever, and our event creates a safe space to do just that. Train and run a first 5k, 10k, or half marathon with 4,000 women runners!" Visser continued, "We invite them to join us no matter what culture or speed-every woman is welcome at the starting line, and I am always waiting at the finish line to high five, hug, or even cry tears of joy with them."
So grab your girlfriends, mothers, sisters, cousins, grandmas, aunts, or co-workers and sign up for this event, you won't regret it. Whether you are looking to complete your first 5k, 10k, or half marathon, or want to set a personal record, this event is for you. All participants will enjoy a New Balance Tech Tee and a unique finisher's gift.
For the MEN: Having women's only event breaks down barriers and the intimidation factor for many women. By hosting this event we know we will impact lives of women that may have never participated in the sport. It's about encouraging women to come together to celebrate what Title IX did for them. We can't host an event like this alone so we hope that men will support the event as volunteers.
"We are pleased to support the Gazelle Girl 5K/10K/Half Marathon. The event should be a great opportunity to reach out to the Grand Rapids community" said Sean Sickmund, MyWay Mobile Storage of Grand Rapids General Manager. Sickmund continued, "I am happy that we could help again in this year's event.
Visser was appreciative of the service MyWay provides, "They have provided us consistent exemplary service for the on-course experience of our runners! Everything we need can be loaded into pods in a timely manner and delivered and placed in the correct spots for race day aid stations"!
Based in Grand Rapids, Michigan, MyWay Mobile Storage is a leading franchise for do-it-yourself moving and portable storage solutions with facilities in Colorado, Maryland, Michigan, Missouri, Pennsylvania, and Utah.
About MyWay Mobile Storage of Grand Rapids:
MyWay Mobile Storage is a leading provider of moving and storage solutions and located in a spacious 18,000 square foot facility in Walker, Michigan. MyWay provides quick and easy do it yourself moving containers that can be delivered right to your door and stored in their climate controlled secure storage facilities. To learn more about MyWay Mobile Storage, visit www.mywaystorage.com, or on Facebook at www.facebook.com/mywaystorage or call 888-336-9929 to speak with a friendly and knowledgeable Moving & Storage Consultant.